30. Listen To Me Marlon
Directed by Stevan Riley
I am a bit of a sucker for movies about movies. And when one is about a person in movies that I actually like...well, you can figure that out. An intimate look at the personal and professional life of one of the most prolific and eccentric actors of all time, this documentary may not dig very deep, but is still enlightening and satisfying.
29. Amy
Directed by Asif Kapadia
Another fantastic documentary, this one is a lot more tragic in nature than the last, and this is due (in no small part) to the short-lived subject of the film. I have never been a big fan of Amy Winehouse, and though I can't say this movie changed my opinion on her completely, it did get me interested in her life and music. It takes a good film to do that.
28. Bone Tomahawk
Directed by S. Craig Zahler
One of the best modern westerns, this movie is just the right amount of exciting and engrossing, while also throwing in minor horror elements and unsettling gore. Dark and moody like few films of its variety, there re few negative things to be said about this gritty and disturbing thriller.
27. The Hateful Eight
Directed by Quentin Tarantino
Okay, so here is a movie I am still slightly torn on. Much like most of Tarantino's films, this is a mostly well-written movie with interesting characters, witty dialogue and some fun action scenes. But it didn't need to be nearly this long and there were some weird, unnecessary things tossed in. Still, this stands as one of his best films, and is easily one of the funniest movies of the year.
26. Love & Mercy
Directed by Bill Pohlad
It's weird to me that this movie was so good (and that biopics in general were so good this year, honestly), but even with the potentially weird casting of Cusack and Dano as old and young Brian Wilson, this movie was so well executed, it managed to totally pull it off. Insightful, surprisingly intense, and emotionally satisfying.
25. The Stanford Prison Experiment
Directed by Kyle Patrick Alvarez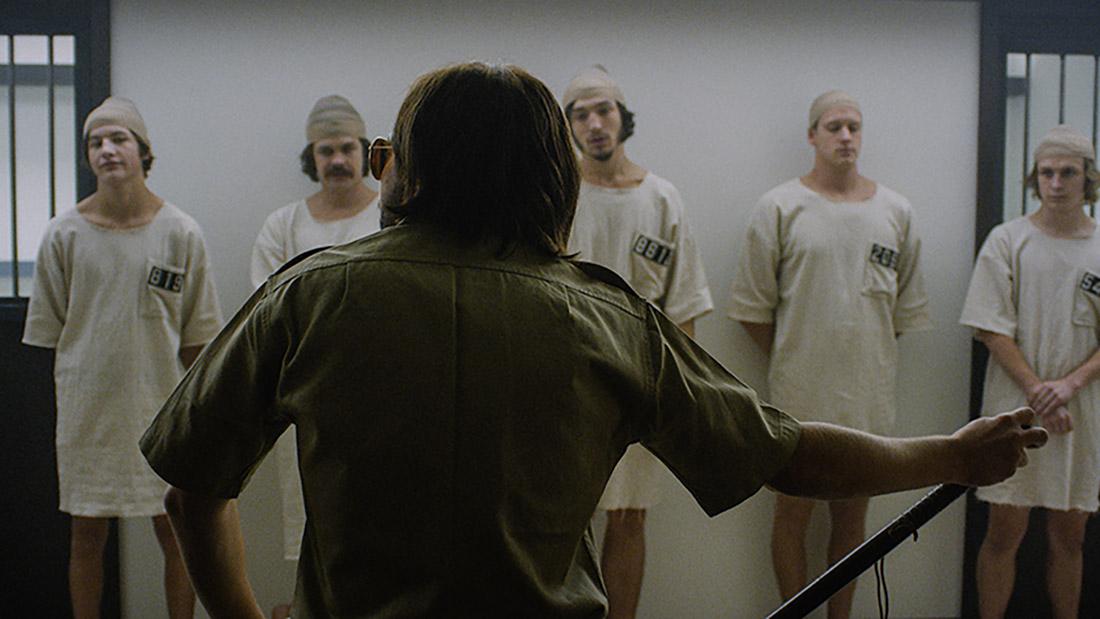 Okay, so I hate people. That is a well documented fact. But if I weren't the human-hating jerkwad that I am, this is the kind of movie that would switch me over to the darkside. With fantastic performances by a largely inexperienced cast, this based-on-a-true-story story is depressing, infuriating, and very interesting all the way through.
24. Creed
Directed by Ryan Coogler
It was really hard for me to drag myself to the theater to sit through yet another Rocky movie. Because whoopee, I've never seen a boring, stupid Rocky movie before. But wow. This was actually a really, really good movie. Great performances, fantastic cinematography and editing, it's hard for me to criticize a single aspect of this triumphant return for the Rocky franchise. It won't be this good ever again.
23. Kung Fury
Directed by David Sandberg
Hey, guess what? I like stupid movies. Like, reaaaally stupid movies. And hey, pssst, guess what?...this is a really good stupid movie. To go into detail describing the plot of this movie would raise eyebrows, so instead just enjoy the picture I posted and watch it for yourself. Its only like 20 minutes. But be warned: it's really damn stupid. (but sooooo fun!)
22. Ex Machina
Directed by Alex Garland
It's rare anymore to see a science fiction movie that was actually written in an intelligent way, but this movie fits that description. Enigmatic, well-acted and briskly paced, this is not the most exciting movie you'll see, but between the acting (Vikander is the standout) and story, it's hard not to be sucked in.
21. Mississippi Grind
Directed by Anna Boden & Ryan Fleck
A gambling movie about addiction (obviously), redemption, and friendship. Its not a typical gambling movie, as it neither glorifies nor totally condemns the gambling lifestyle, but rather shows it as it really looks. Mendelsohn gives a terrific performance, with strong support from Reynolds. This is just a really good movie. People need to watch it.